Blouse | Urban Outfitters
Hareems | Topshop
Shoes | Next via Ebay
Rings | H&M - a gift from Helen :)
So, here I am on a casual mid-week evening out on Mars.
Okay, not really but I think the Martians would want a pair of trousers that make legs look as long as these ones do. For once I'm pretty impressed by my pins! These hareem style trousers are soft tailored sports luxe but they are also my limit to anything athletic so I have paired them with this beautiful floral blouse.
I like this outfit because it's a good day to night (or cave) one. I can wear it with a blazer and lower heels for the office and then heavier make up in the evening.
The stackable rings are one of my many birthday gifts from Helen. That girl has taste! From a distance their beady eyes look a bit insect like and my fiance thought they were slugs.. my worst fear... But I still love them! I want to get some other plain bands to stack with them.
I'm also trying out a middle parting right now. Or leaning towards one, I'm not quite there yet. I like the look on other girls but it is a bit reminiscent of my middle parting back in primary school. I've not decided if this season's microtrend of tucking it behind the ears is 90's cool or a bit too Sweet Valley High (which is certainly who I was copying when I had this look, aged 12). It is an easy fuss-free look at least.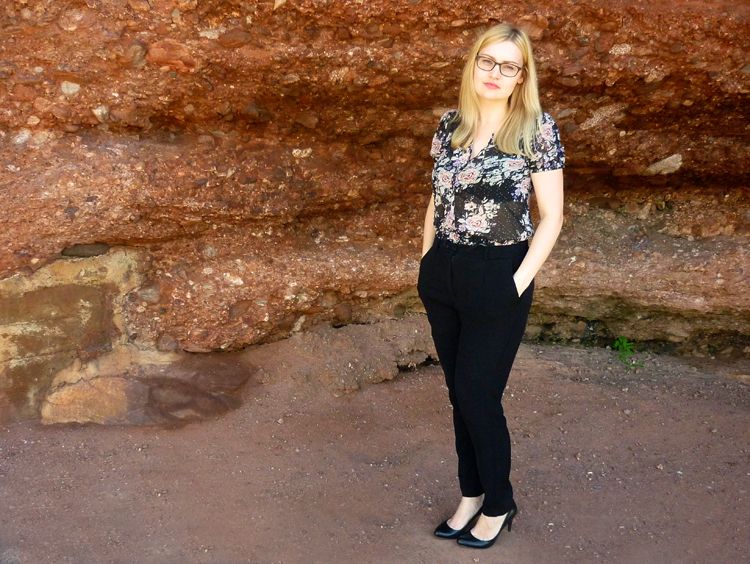 Shame my highlights didn't get the message about the move.