Kimberley: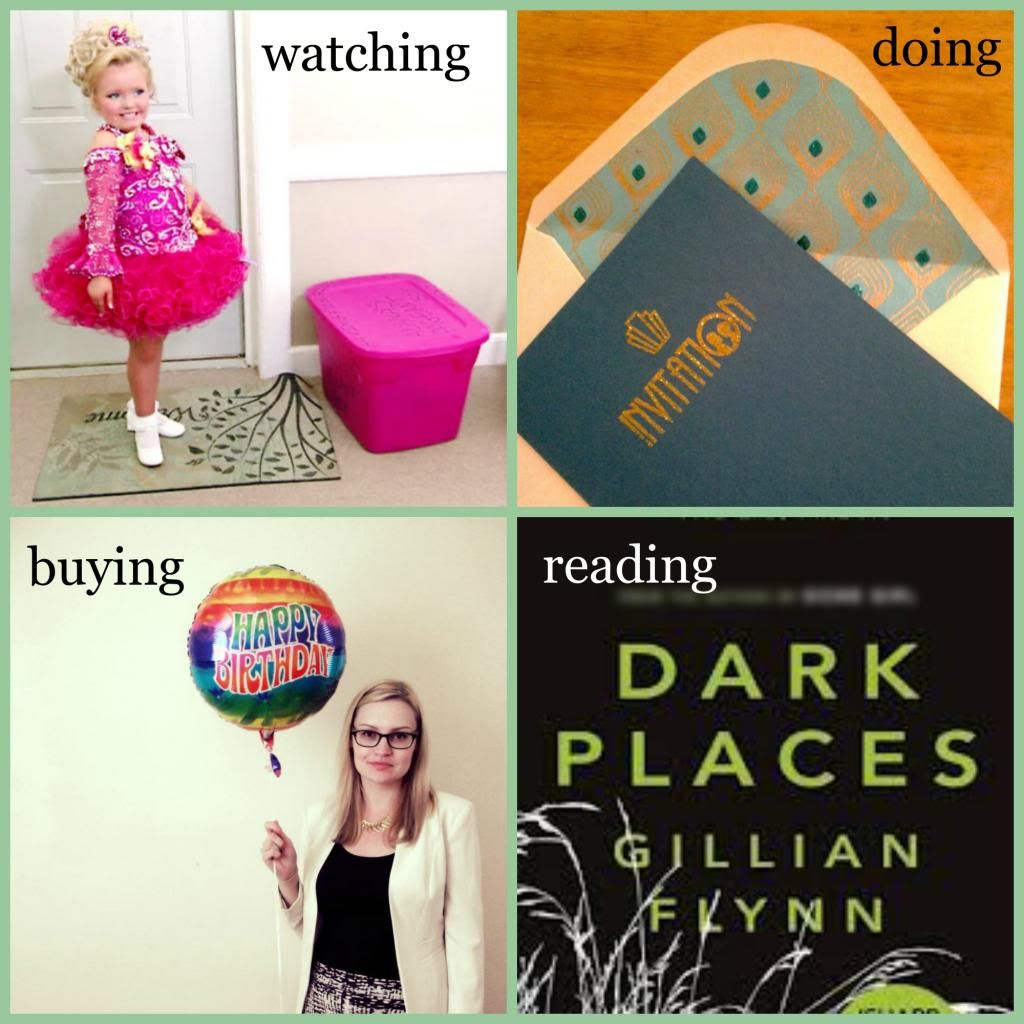 Doing:
My wedding preparations are well under way. It's pretty much all I talk about, think about and make lists about. I'm going to be in serious need of a hobby come September. Helen and I have just finished my beautiful invitations and posted them out to my guests. I'm suffering from a stationery come down.
Reading:
Still on my
Gillian Flynn kick
. I've just read
Dark Places
. It's as twisted as her other novels and the unraveling of the mystery was really satisfying. I like it when mysteries genuinely surprise and it's pretty rare. Now that I've read all her novels, I need something new!
Buying:
I haven't bought much this month because I've been given lots and lots for
my birthday
. The only thing I've actually been buying is some plants for my garden. My spring plants are still only coming out now but I'm trying to make it more summery.
Pretty exciting times.
Watching:
to counteract all my grown up pastimes, I recently discovered
Here Comes Honey Boo Boo
on TLC. It's my guilty pleasure. I can't explain why I love this gassy, self- proclaimed red neck family and their pet pig Glitzy. I'm also quite intrigued by the transformation of the little beauty queen, Alana (Honey Boo Boo), because out of costume she is nothing like her pageant princess persona. Mama June is the real star of the show though.
Helen:
Watching:
This month I have manly been watching old episodes of
Criminal Minds
. The first few series are on Netflix and I'm working my way through them at an alarming speed. Most of the episodes follow a very similar structure but I like the characters, especially Reid and Garcia. It's nice having something I can just stick on and not have to think too much about.
Doing:
I had a great weekend away in Oban with Ross and my sister, Heather. We spent our time visiting landmarks, going to the
Sea Life Centre
and eating lots of tasty food. The weather was surprisingly nice and it was lovely to have a little mini break.
Reading:
As I'm a bit of a slow reader I've still been working my way through Gone Girl. I did also find a bit of time to read the latest issue of Company magazine though. This was done in a Glasgow park with a glass of Pimm's by my side and the sun in the sky. I wish all my reading could be done this way.
Buying:
At the start of the month the weather was lovely and I couldn't help but treat myself to a new summer dress. I picked
this one
from River Island because I loved the print on the skirt. Watch out for it in an outfit post very soon.