It was Kimberley's birthday on Monday but unfortunately I didn't get to celebrate it with her. Luckily this means more time for present buying and, most importantly, wrapping. I love taking the time to wrap gifts and make them look all pretty but it never usually works out that way. Too often my gifts are wrapped at the last available moment, only to be ripped open minutes later. So, with a bit of time on my hands, I decided to go all out with the gift wrap for Kim's birthday surprise. Here's my super simple DIY so you can give it a whirl too.
This is what you'll need: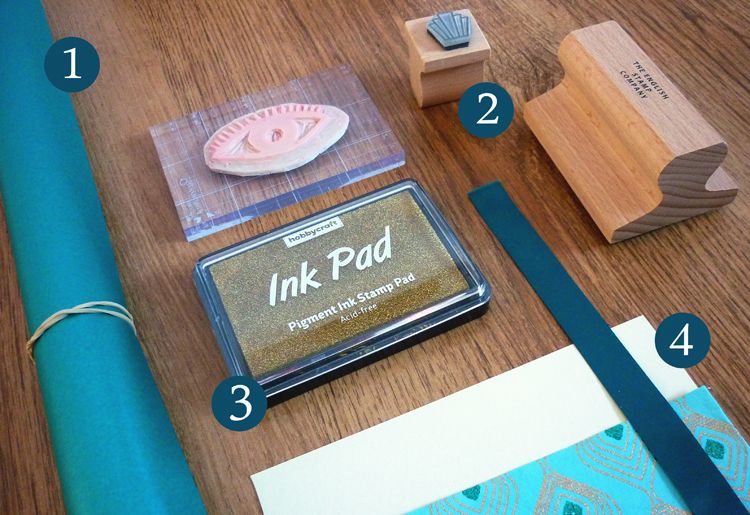 1)
Some paper.
I bought a sheet from Paperchase but you could use brown packaging paper or even plain old printer paper.
2)
A selection of stamps.
These could be shop bought, carved yourself or you can order your own design from a site like
The English Stamp Company
.
3)
An ink pad.
I went for a nice gold one from hobbycraft. There are loads of different makes and colours available or just use some plain old acrylic paint.
4)
A selection of ribbon and fancy paper for added extras.
These can be used to make a gift tag and for extra finishing touches to give your gift even more pizazz.
Step One:
Layout the paper flat. If the paper has been rolled it's a good idea to set some heavy objects at eaither end to hold it in place.
Step Two:
Press the stamp into the ink. Make sure it is fully covered and that you have a good grip of the handle.
Step Three:
Stamp the design onto the paper. Repeat steps two and three to form any design you wish. You can map out your pattern before hand by marking the positions with a pencil and ruler. Or, like me, you can go with a more haphazard application.
Keep on stamping until the paper is covered or you have enough for the present you want to wrap.
What's good about stamping your own wrapping paper is you can have several different designs on the one role by experimenting with the spacing or using different stamps.
Easy peasy!
And here is the fully wrapped gift.
I used some ribbon and spare wool to add a couple of finishing touches and I made use of some matching card to create a personalised gift tag. It all adds up to create some extra special and unique wrapping for an extra special and unique lady.