The year is almost at a close and it's been a good one. 2013 was the year this wee blog was started and it's been so much fun. I know it's encouraged me to be more adventurous with fashion and I've enjoyed setting little challenges and working as part of a team. There are lots of ideas to be tried in 2014 but before that begins here's a little round up of some outfit highlights from the past year. To mix it up a bit I've decided to pick my top 6 favourites from Kimberley's back catalog and she'll do the same for me later in the week.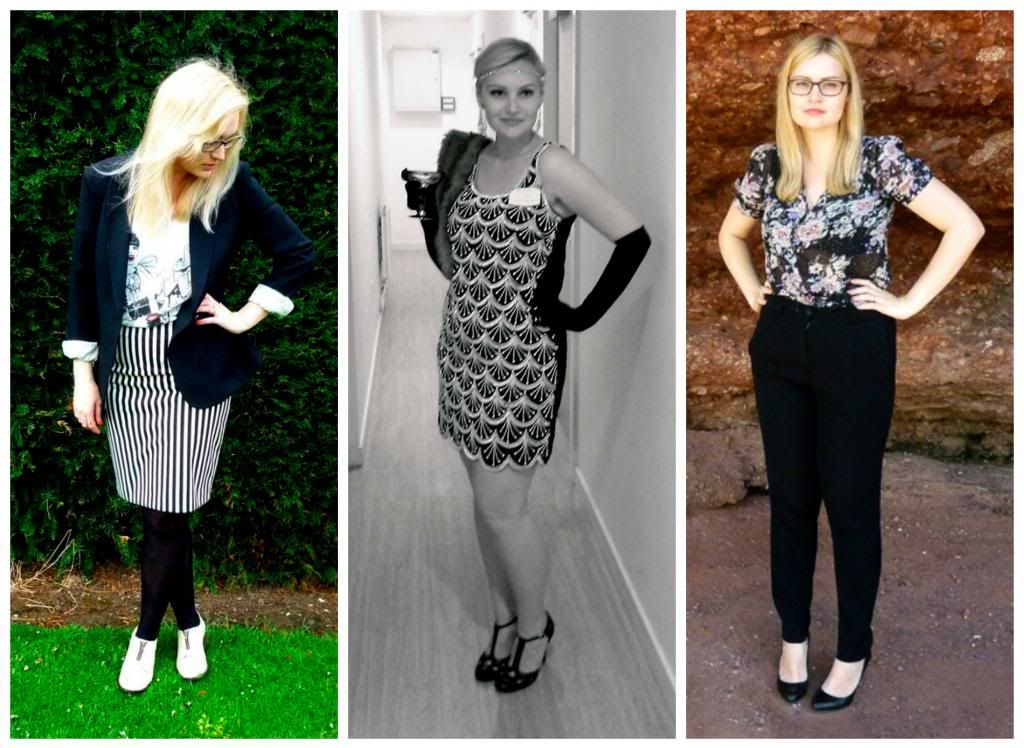 This first lot feature a lot of black and white, no doubt influenced by my own love of monochrome, but it really is a combination that works on Kim. The first of these looks is, unsurprisingly, from our monochrome challenge. Vertical stripes create a super flattering shape and I love how the tailored items are mixed with a casual tee. Plus those boots, I want them so bad! The second outfit is so very glam! Worn for her hen do, I know Kim felt awesome in it and this confidence definitely shows. The third, smart floral look, is simple but striking and showed that plain black trousers don't have to be dull.
This second lot show a bit more colour but it seems obvious that I prefer winter dressing to summer outfits, since I've only picked one image from the warmer months. The first is a casual outfit Kimberley wore for some shopping. I like that it's simple but still fun, with the bright green bag and hot air balloon print blouse. The second outfit is fun all over. I love the light blue mixed with pink jeans and polkdots are always a good time. The final outfit is a bit more serious but I still love it and it's granny influences. That coat just looks so cosy.
I wonder what Kim will make of my picks. Which are your favourites?
Have you done a outfit round up? Please share, we love 'em!