December is well underway and we are getting mega excited for Christmas! We love decorating our trees and picking presents for everyone. Of course another fun part is putting together our own wishlists to send to Mr Claus. Here is what we are lusting after this year.
Helen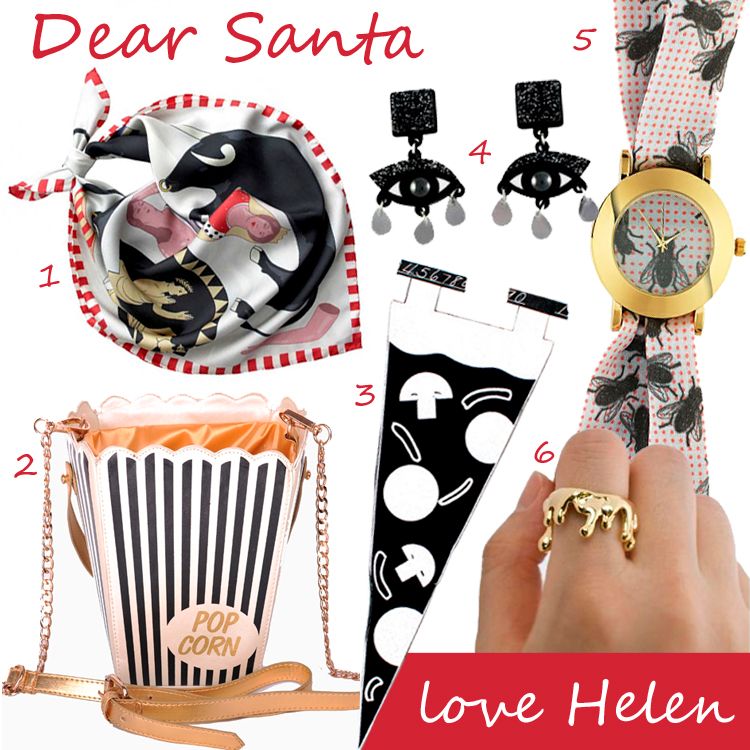 1. Like a Bull in a China Shop Scarf | Karen Mabon
It wouldn't be my wishlist if it didn't have something on it by Karen Mabon. She continues to create illustrated items that catch my heart. A girl can never have to many scarves, right?!
2. Popcorn Bag | Choies
Ok this is a rather obvious Charlotte Olympia imitation. I don't normally go for designer rip offs but I am never going to be able to afford the original and, god damn it, I want a popcorn bag! I'm a bad person, I know.
3. Pizza Pennant | Stay at Home Club
I love the Stay at Home aesthetic and ethos, nights on the sofa rule! This little pennant sums up their whole look for me and would fit nicely into my cosy abode.
4. Eyes Drop Earrings | Jennifer Loiselle
I wouldn't normally ask for earrings. I don't have my ears pierced after all. But, luckily, these beauties are also available as clip on. Pat Butcher glam all the way!
5. Flies Fabric Watch | Wholesome Bling
My watch is looking a bit tatty these days and is pretty much crying out to be replaced by this lovely time piece.
6. Drippings Ring | Jung ee eun on Boticca
Shiny, gold and slightly creepy. That's the way I like my jewellery.
Kimberley
1. Leather and Fur Evening Bag | Zara
I first ran my hands over this beaut in store a few weeks ago and I am dying to have it for myself. Apart from the fact it reminds me of a sporran (bonus?), the texture is subtle enough to pair with any evening outfit.
2. Prayer Heels | ASOS
I have been looking for a pair of wear- with- everything heels (to go with the Zara bag) but I really struggle to buy anything black. Or plain. I love pattern! I do however really like pointed toes at the moment and the Perspex heel is another subtle way to have something a bit different without it taking all the attention.
3. Custard Cream Cushion | Nikki McWilliams
I love Nikki McWilliams biscuit themed goodies. I already own a Tunnocks Tea Cake cushion but I'm starting to feel it might be getting a bit lonely (with the ELEVEN other cushions adorning my two sofas) because it needs a biscuity pal. So, if you see my husband, please mention this cushion cruelty so that
I
the tea cake can have a new cushiony friend. Or four.
4. Alchemists Vision Ring | BloodyMary Metal
There is a lot of geometry of Bloody Mary Metal's designs, which I really like. A lot of them are quite rock'n'roll (unlike me) but others are more delicate and you can really see the craftsmanship in them. I had a hard time deciding because I want them all!
5. Jessie Dress | Rowan Joy
Rowan Joy's designs are so beautiful (any brides- to- be should check out her
bridal gowns
). In some ways it is a shame she uses such quality materials because I am allergic to wool! So, alas, this beaut will never be mine
:(
6. Cardigan Club | Robbie Porter
This print feels like it was made for me. Ever the dork. I heart it!