Helen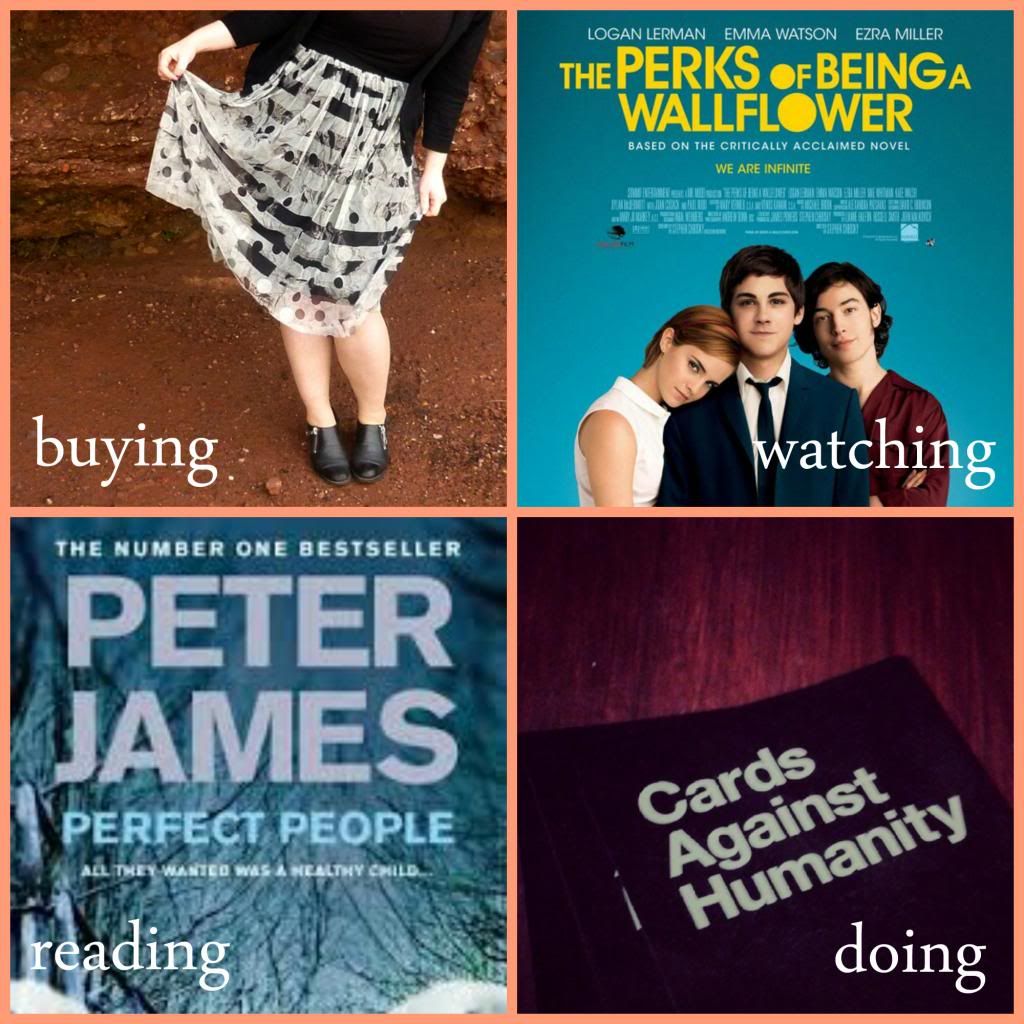 Buying:
As previously mentioned I have been buying quite a few treats for myself in the January sales. This includes the skirt featured in my
last post
. It's one of my favourite sale buys, I love the length, the pattern and the price was pretty nifty at only £10.
Watching:
I watched
The Perks of Being a Wallflower
last weekend. I'm not the biggest Emma Watson fan but I enjoyed her performance and I'll admit I did shed a few tears towards the end.
Doing:
After all the jolliness of Christmas and New Year, January has been a pretty quiet month. I did enjoy a Burns supper last weekend. We ate lots of tasty Scottish food, drank a lot of non Scottish wine and played Cards Against Humanity (i.e. my new favourite game).
Reading:
I finished reading
Perfect People
by Peter James. This one took me quite a while to get through but I did find it enjoyable and filled with a number of interesting ideas. And while it wasn't the most gripping novel the ending was well worth the read.
Kimberley
Watching:
I have been trying to limit my television viewing because my eyes are getting square and my brain is slowly dissolving. Of course I watched Sherlock, and I have also recorded Mr Selfridge for when I want a telly binge.
Buying
: As I mentioned in my first sales post, I have shopped too much this month! In fact, look out for another sales post next week. I can never find my keys I treated myself to a really nice Bailey & Quinn red heart
keyring
that attaches (and matches) my new
handbag
and keeps me organised. I'm only a tiny bit miffed it's now so cheap in the sale!
Doing:
I think 'mindfulness' is the buzzword for 2014 and it was at the top of my New Years Resolutions so I decided to join an Ashtanga yoga course at
Summerhall
. I've done yoga before (and spent time in an Indian Ashram) but that was quite a few years ago now! Clearly my body doesn't remember anything, so I've started as a beginner again. I'm three weeks in and already feeling the difference. I will be signing up for the next eight weeks too!
Reading:
I finally got round to reading last year's big hit
The Fault in our Stars
, by John Green. I knew it was going to be a tear- jerker by its premise- the love life of a teenage cancer patient. If I'm honest, I couldn't be bothered with another
My Sisters Keeper
type novel, but I was pleasantly surprised by how sharp, witty and interesting the story was. And yes, I did cry. I bawled my eyes out because it was beautiful.