Helen's Picks
The January Sales can be a great opportunity to stock up on some wardrobe staples at bargain prices. Add some more black trousers to your workwear collection or collect some more tshirts for the gym. I say where is the fun in that! For me the sales have become about being adventurous and getting my hands on some fun pieces that I wouldn't normally be able to justify. Here are my picks from the sales.
1 & 2) Spangle Crop Top and Mini Skirt from The Whitepepper. What could be better than a sparkly multi coloured top or sparkly multi coloured skirt? The two together of course! Unfortunatley they don't have the top in my size but I am definitely contimplating that skirt.
3) Make Space Tee by Monki. I am a big fan of Monki and their fun prints. The also know how to do a sale. Simple slogan tee for only £5, don't mind if I do.
4)
Treat Clutch Bag
from ASOS. Released for Halloween this clutch does have a very distinct Trick or Treat feel. That wouldn't stop me rocking it all year round though. I love a good slogan, especially when it's done in dripping horror font.
5)
House of Holland False Nails
on Urban Outfitters. I have been admiring these for quite some time but I'm just not sure how well I'd get on with false nails. Now that they're reduced I might just have to give them a try.
6)
Feline Fine Dress
from Lazy Oaf. It's a velour dress with a kitty face, what's more to love. Oh yeah it's reduced to £35! This is exactly the kind of thing I would have picked to wear to my primary school disco which is exactly why I need it now. Here's to never growing up!
7)
Knot Front Midi Dress
from River Island. I have made quite a few purchases from River Island lately. Sometimes they go way over the top with their embellishments but they can also get it very right. I tried on this dress in my hunt for a New Year's outfit and actually really liked the shape and sparkly of it. Unfortunately it didn't quite fit with the Great Gatsby theme I needed but it would be nice to have it in the wardrobe for any future occasions that require some sparkle.
8)
Lace Up Glitter Shoes
by Shellys London on ASOS. There is a lot of glitter and sparkle in my list but I won't let that stop me taking it one step further with these silver shoes. These would look so great with black jeans and that Monki Tee to add some glamour to a trip to the supermarket.
Kimberley's Picks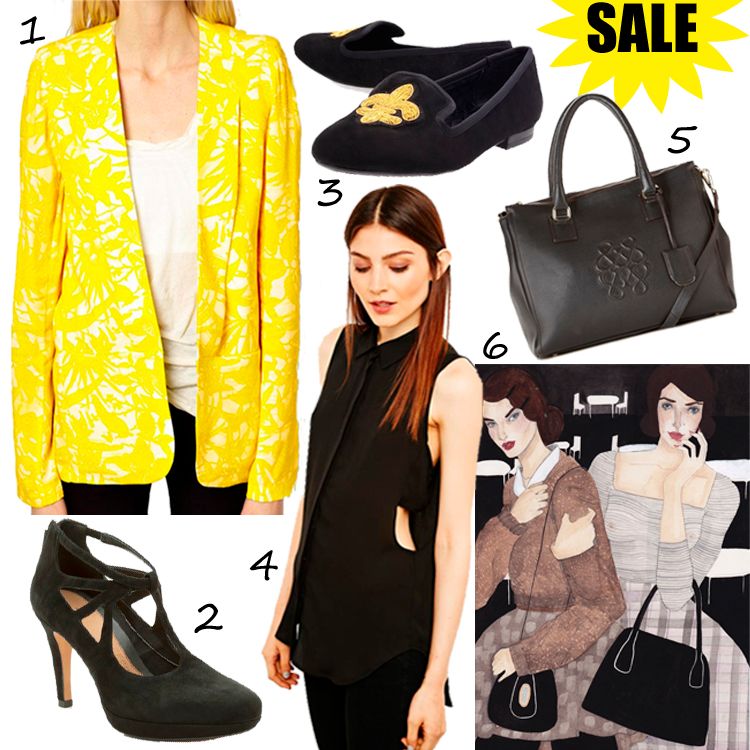 For the first time ever, I have been very sensible in the sales. I only looked at things I genuinely wanted before they went onto the bargain rails so that I didn't get swept up in the madness of Princes Street post- Boxing Day.
1)
Pineapple Print Blazer
from American Vintage on ASOS. I am already thinking ahead to summer. Acid bright and pineapples- what more need I say?
2)
Betsy Lockwood Suede Shoes
from Clarks. I have a lot of pencil skirts, so I have been looking for a pair of pointed toe shoes that won't kill my feet. I can always trust Clarks to add comfort to style. These are cute vintage style plus the subtle platform means they aren't too high.
3)
Leyna Shoes
by Nine West. These are the best bargain I've seen- slashed from £97 to £29 when I bought them. They are comfortable and perfect for work. I have been looking for a pair of good quality slipper shoes for ages. Hooray!
4)
Open Side Shirt
by Sparkle and Fade on Urban Outfitters. This shirt is not really for the office! but is a fun way to keep up the preppy look outside of work.
5)
Caitlin Shearer Print
'The Lunch Hour' on Etsy. I really like all of Caitlin Shearer's prints but this one is a favourite of mine.
6)
Bailey & Quinn Leather Tote Bag
from Debenhams. This bag already featured in my December Round Up because I snapped it up on Boxing Day. And I have used it every day since. It has already had it's worth per wear! I also like the tan version and am so tempted to buy a second one...
I also got a River Island pencil skirt (to wear with no. 2) which is sadly no longer in stock so I don't have a link. I had tried it on just before so I didn't even have to try it on in store. Probably best after too many selection boxes last week.
I will probably end up going back round the sale for bargainous 'further reductions'. Must not get carried away after being so good!