Hair by Miss Dixibelle
Enough of all the Valentine's stuff of last week, we want to take you further back in time to the weekend before and an adventure to the west coast. It was Helen's birthday on the 4th so to celebrate we decided to head over to Glasgow for some fun and games. Being the glamorous ladies we are we booked ourselves a room at the Euro Hostel. We just never see the need to shell out for an expensive room when we can save our pennies for more important things, like shopping, food and drinks, and that's just what we did.
Cup Tearoom
We kicked off the weekend by meeting up with the lovely Glasgow based blogger, Lynsay from
Miss West End Girl
. It was nice to chat blogging with someone else who's passionate about it as we are! After that we headed out for some Friday night food and drinks at
Cup
. We treated ourselves to some tasty sliders and even tastier desert and washed it all down with gin based cocktails in pretty tea sets. The food was great and the atmosphere was nice too. Our meal was accompanied by a live singer serenading us with some of our favourite Disney songs.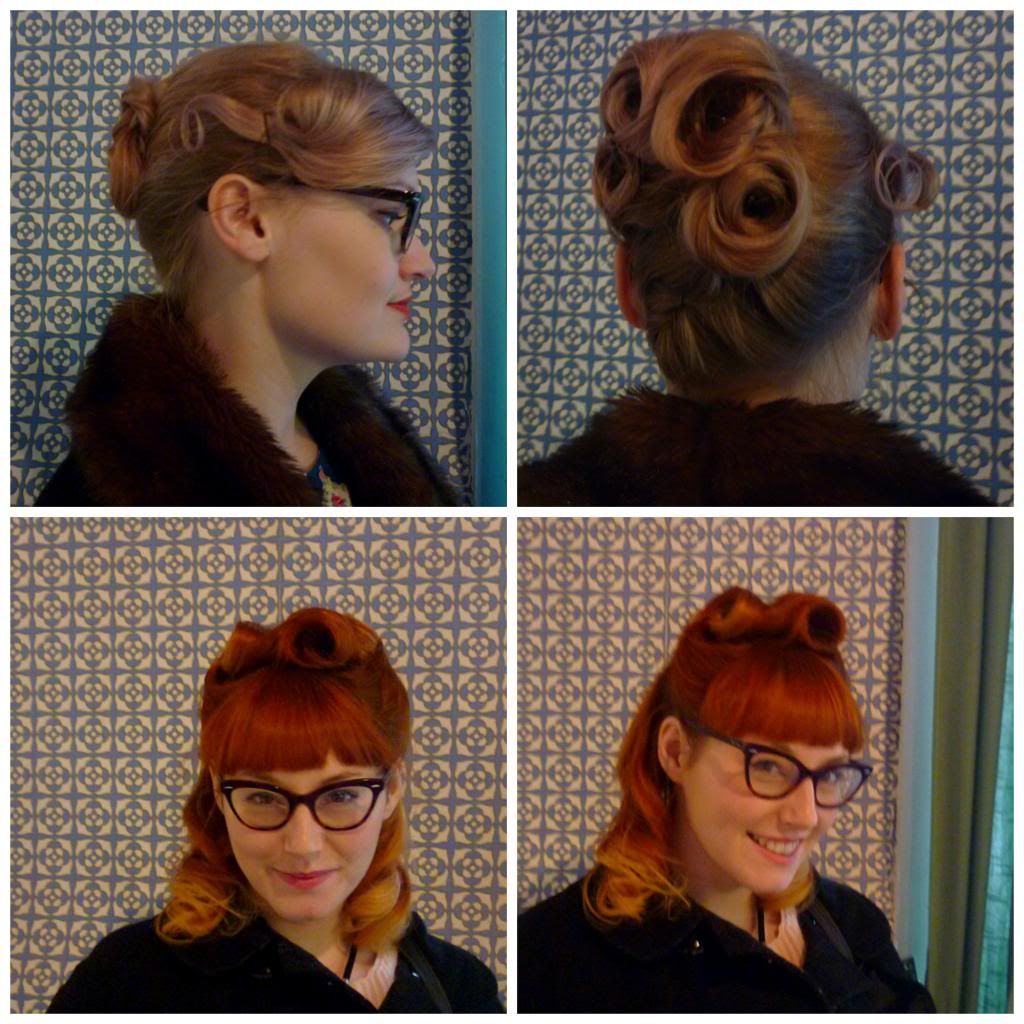 The next day we popped on the subway to the West End Vintage Fair, where we had an appointment with the
Miss Dixiebelle
ladies to get our hair done. For only £15 each, we were pampered, preened and transformed into vintage vixens (well, our hair was anyway). After a tour round the fair, and a few cheeky purchases, we headed along
Cresswell Lane
. We did some pottering around the cute little shops until we began to feel a little peckish and ducked into
The Cup & Saucer
for a bite of lunch. We felt very at home in amongst the vintage decor and were delighted when our lunch was served to us on tv trays. The sandwiches, cut into little triangles, and some super tasty milkshakes went down a treat. In the afternoon we wandered around the botanic gardens and snapped a few outfit shots (which we'll share later this week) and then headed back into the centre for a spot of shopping.
Food and drinks at The Cup & Saucer
After a quick refresh and change back at the hostel we braved the rainy evening to meet some other lovely ladies for tea at the
Tiki Bar and Kitsch Inn
. The food here was delicious, even if a little spicier than expected, and the cocktails were even better. We loved the fun glasses they were served in! After all the excitement of the day we decided to forgo dancing and head back to our room to munch on sweet and salty popcorn and drink cheap wine. All in all a rather super weekend and we can't wait to head back to Glasgow for more fun times soon!
Where are your favourite spots in Glasgow? Let us know so we can be prepared for our next trip.