All this rain, wind and generally grey weather is getting me down. I can't help dreaming of warmer times when the sun is shining and I don't have to worry about hats, mittens and winter boots. But, no matter how hard I wish, spring is still weeks away and all I can do is stare in wonder at the colourful spring items which are sneaking onto my radar.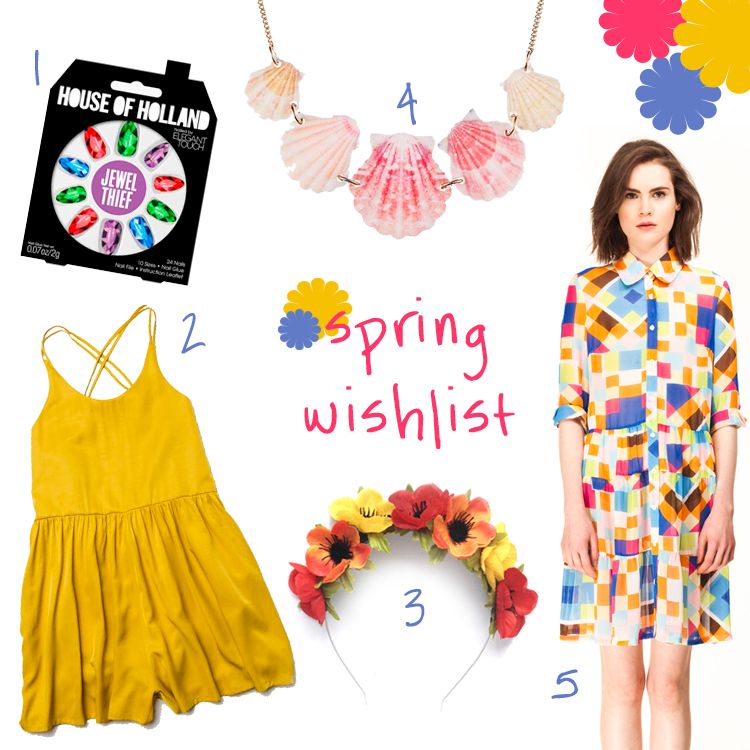 1)
Jewel Thief Nails
from House of Holland. I haven't tried false nails for years but I think these colourful jewel ones might have to be my first stop. Plus, I could certainly do with a bit of length as a change from my own short and stumpy nails.
2)
Jumpsuit
from A Part of Me. I'm not sure yellow is my colour but I am craving a bit of sunshine in my wardrobe. I love this bright jumpsuit, the perfect piece for some sartorial cheer.
3)
Anemone Headband
by Crown & Glory. More bright and beautiful colours, this time in very spring appropriate flower form. Flower crowns are the best antidote to grey clouds!
4)
Shell Grotto Necklace
by Tatty Devine. I love Tatty Devine's new
Spring/ Summer collection
! The mix of seaside and SciFi is just awesome. I seem to be embracing pink recently so this shell necklace would be a welcome addition to my spring wardrobe.
5)
Pentole Dress
by Kling. Bold colours and pattern, packaged together in an easy to wear shirt dress shape. I want this to be part of my spring uniform, for sure.