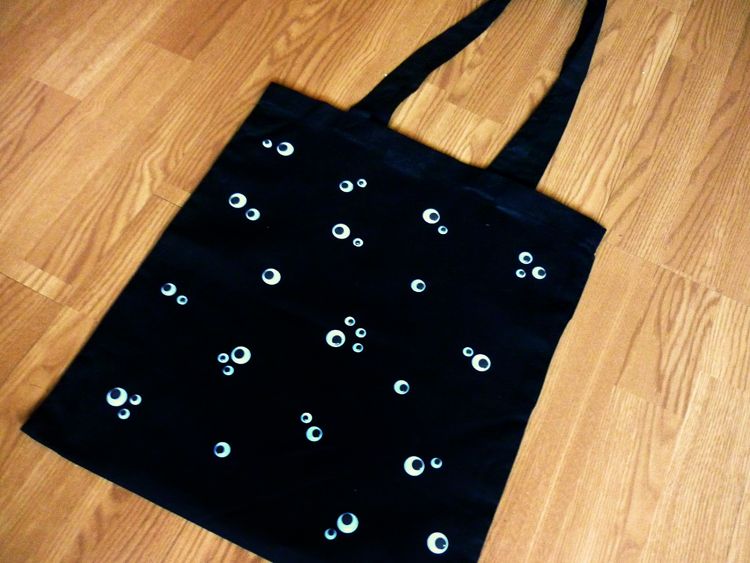 After our
first DIY challenge
, featuring Valentine's Cards, I was super excited to get cracking on the next one. For this months we've decided to create our own tote bag designs. This practical item is an important staple in my wardrobe and is so useful for transporting my essentials or carrying the bread and milk (and wine) back from the shop. I have a number of different ones featuring fun and interesting designs, but most of them are natural or light in colour. After seeing
Kimberley's HelloDODO tote
I knew I wanted to add a black one to my collection. I still had a number of googly eyes left over from our first DIY so I thought I'd make use of them for a simple monochrome look. If you fancy making your own, just follow these super easy instructions.
You'll need:
1) A tote bag. You can pick up a plain one from many high street shops or go online to ebay for a wide selection of colours.
2) Some eyes. Get a pack from your local craft shop or head to Hobbycraft.
3) Fabric glue. Again find this in your nearest craft or fabric store or do an ebay search.
Added extras: Some scrap paper/ newspaper.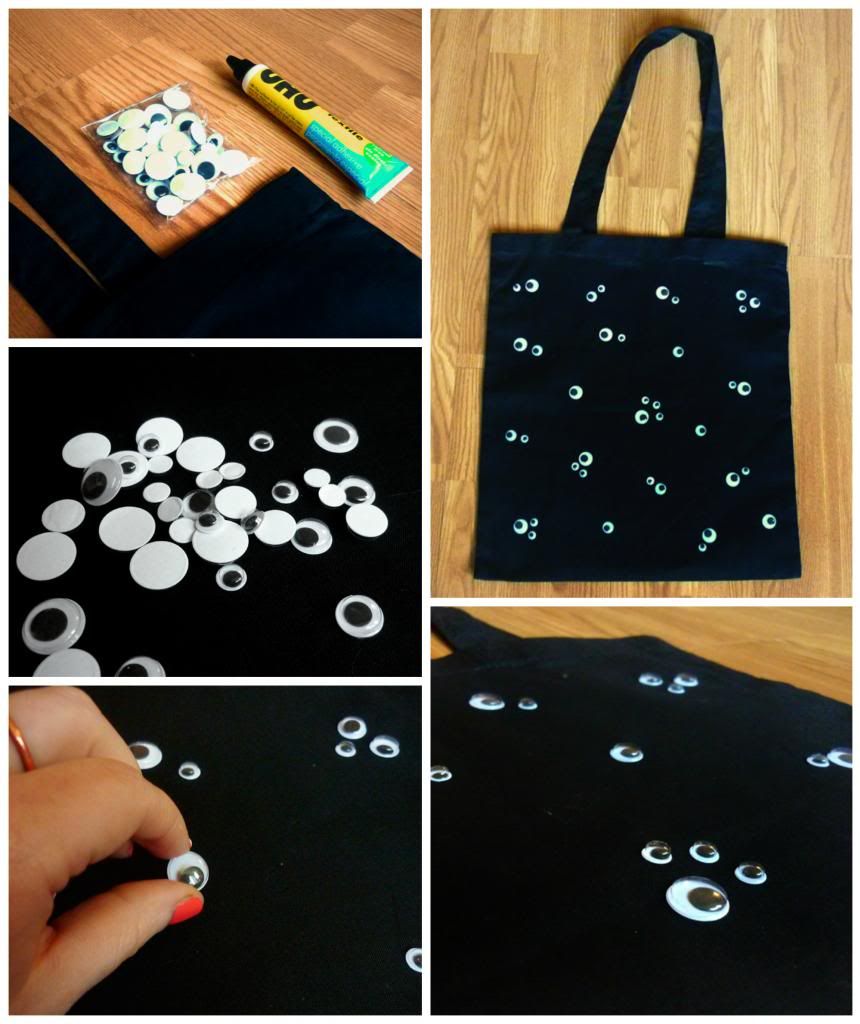 Step 1. Iron your bag and make sure it's nice and flat.
Step 2. Put some scrap paper or newspaper inside the bag. This will stop the glue from seeping through to the back of the bag.
Step 3. Lay the bag flat and position your eyes to create a pleasing pattern. I went with random spacing, placing small and large ones together.
Step 4. Use your fabric glue to attach each of the eyes. Go with a small blob in the centre to try and prevent any spilling out of the sides. Hold each eye in place for a few seconds to make sure it's nice and secure.
Step 5. Remove the paper from inside the bag before the glue is totally dry. This should stop parts of the paper from sticking to the inside of the bag. Hang up the bag and allow the glue to dry fully. Check the packet of your glue for details of timescales.
Step 6. You're done! Style up your new bag with a monochrome outfit and rock it out to the shop to pick up that
pint of milk
bottle of wine.
If you do make one of your own I'd love it if you shared it with us on twitter (
@WardrobeConvos
) or on instagram (
@WardrobeConversations
).