Can you guess what it is yet?
Firstly, I want to say that I'm not a crafty person. I can draw. I have an Advanced Higher in art. I did better in our
Valentine DIY
because it involved illustration. This one I have never attempted before but these DIYs are a good way of showing that absolutely anyone can have a go!
I wanted to try to make a very simple stamped print to cover my tote bag with a repeated pattern.
I played around with triangles, hearts and arrows. Finally I thought I'd give a wee cat outline a go, inspired by Helen's acrylic Katze Shop necklace from her
birthday outfit
.
If I were doing this seriously I would buy some foam and wood to make a re-usable stamp like
here
. However, I wanted to show that it was as easy as a primary school project, so I've used the trusty old potato.
If you want to feel like a nursery teacher, you will need:
1.) a canvas bag
2.) a decent sized potato (mine was an M&S Maris Piper baking potato, in case you care)
3.) a knife! (caution: some of us require adult supervision. I know I did.)
4.) paper & pencil
5.) acrylic paint
Added extras: a paint brush, a magazine or scrap paper
Step 1. Iron your bag so it's wrinkle- free and lying flat
Step 2. Line with an old magazine or scrap paper to stop the paint seeping through
Step 3.Draw out your shape on paper and cut out to transfer to potato (I like saying potato)
Step 4. Trace round the template onto the potato and cut it out to create le stamp. This bit's quite fiddly!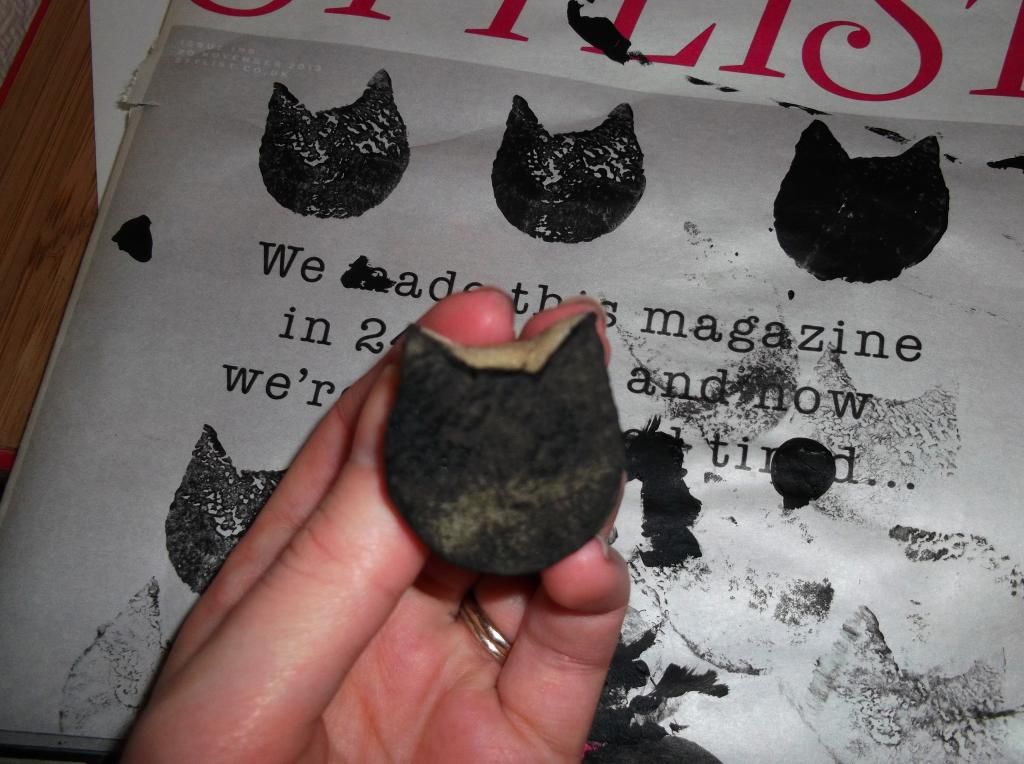 Step 5. Measure out where you will place the stamps. I used lined paper underneath the material so that I could measure it out roughly and not mark the cloth.
Step 6. Use the paint brush to evenly coat the potato stamp with the paint
Step 7. Stamp, stamp, stamp! Repeat!
Step 8. Use paint brush to tidy up edge (I didn't do this here but I should have!)
Step 9. Admire your handiwork / cry
Fin.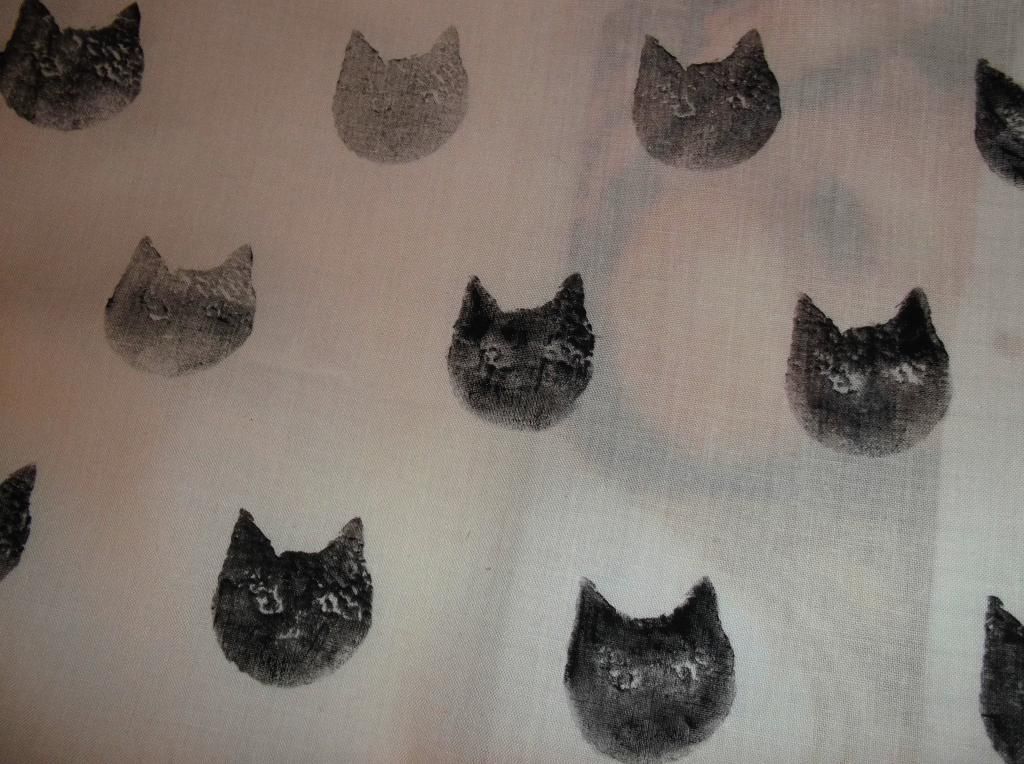 The strangest thing about this project was that the stamp was supposed to be a solid silhouette.
When I actually stamped it, creepy little eyes kept appearing. I couldn't see anything on the potato causing it, so clearly the tote bag has become possessed.
You can use the paint brush to neaten up the edges and fill in any missing spots but
I got a bit carried away stamping and didn't do this, so we will call this version my
crap
practise one.
This is almost as bad as my turd- shaped
baking fai
l, but they were delicious to eat, so I'll wear this with pride!
I do feel like having another go. I think next time I'll buy the foam and wood to do it properly and get and even un-potatoey finish. Any tips welcome!
If you decide to create a wonky cat tote, or any other potato stamped goodies, please do share. I'd love to see your efforts!