After this season of knitwear and monochrome I am really in the mood to buy prints, bright colours and sparkle. I also really need to up my jewellery collection so I've got my magpie eye on a few bits and pieces.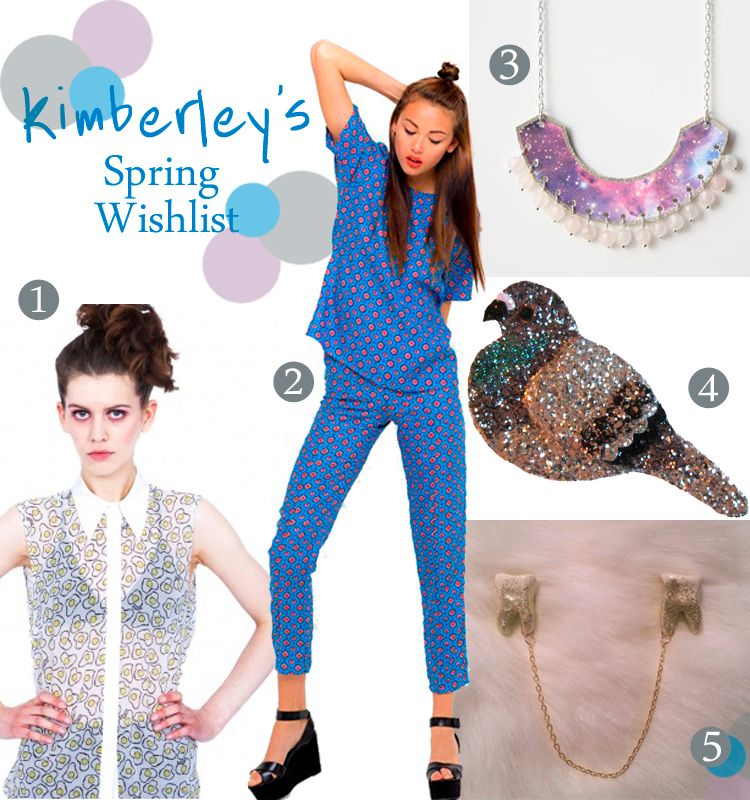 1.)
White Fried Egg Shirt
| The Rodnik Band
I'm not sure what my recent obsession with fried eggs are. Probably because they are ridiculous. I enjoy The Rodnik Band's clothing but for me this is the most wearable print.
2.)
Pacey Co-ords
| Motel
I've been looking for a t shirt and trouser/ skirt co-ord set for ages. I've seen a few not had the nerve to actually go for it.
3.)
Purple Space Leather Galaxy Bib Necklace
| Ring U Boutique
Love a bib necklace, love futuristic or sci-fi themed fashion. Double win! In fact, whilst writing this I have just place an order for this one. My wishlist is coming true.
4.)
Glitter Pigeon Bird Brooch
| Luna on the Moon
I am in love with the quirky accessories from Luna on the Moon. Helen won the eye version and I can't decide between this pigeon or the fried egg. So fun!
5.)
Tiny Teeth Collar Clips
| Hey Kitsch Kitty
I bought Helen a pair of teeth collar clips for Christmas and I have been coveting them since, but I didn't want us to have (yet more) matching items. It takes the fun our of borrowing things! These tiny glitter ones caught my eye recently though, so I may have to snap them up (geddit?).
As wacky and wonderful as these items are, they certainly aren't a matching set. I would be wearing these separately, I think! I am on the look out for a novelty bag. Any designs I should be checking out?