Helen's Picks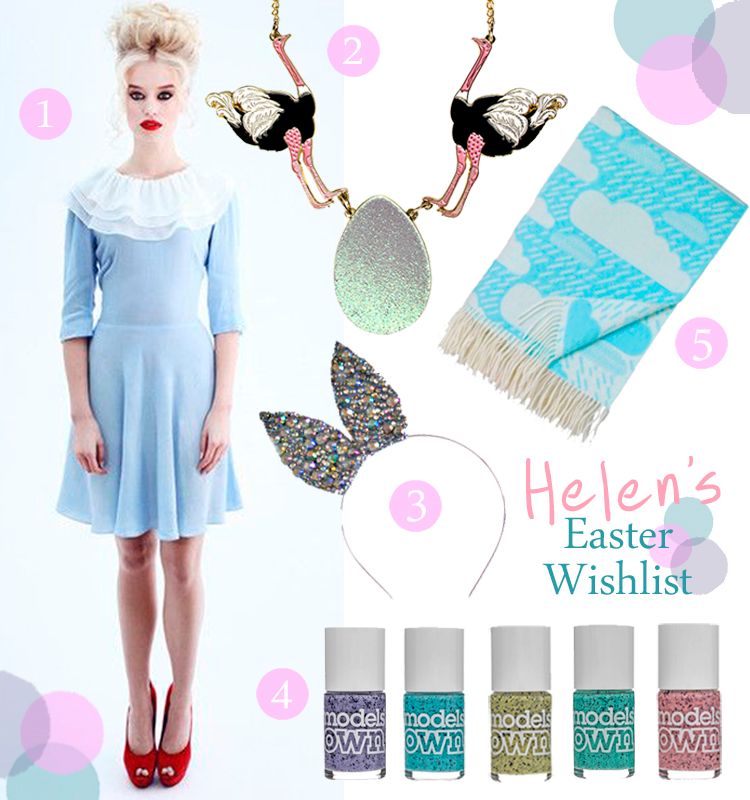 1.)
Blue Pierrot Dress
| Coco Fennell
April means the on set of spring and as a result I start thinking about pretty dresses for warmer climes. The new Coco Fennell collection is full of items that fit this bill perfectly. I love the colour of this one and ruffle collar is super cute.
2.)
Head in the Sand Necklace
| Karen Mabon
It's no secret that I adore the creations of Karen Mabon and the latest items to hit her online store are no exception. This necklace is definitely my favourite of the new pieces and it's kind of easter appropriate, what with the sparkly egg and all. At least that will be my excuse when I treat myself to it.
3.)
Liberace Bunny Ears
| Rock N Roll Bride for Crown and Glory
Bunny ears sometimes give me nightmares as I think back to my Saturday job when they were mandatory attire at this time of year. Now, if they were beautiful glittery ones like these I wouldn't have minded at all.
4.)
Speckled Eggs Nail Polish
| Models Own
Mini egg style polishes have been around for a while now but when I saw Models Own had come out with their own collection I knew they would be the ones for me. I love their quality, lasting polishes at a pocket friendly prices. I've already treated myself to the Dove Pink and Swan Lilac but I am after the whole set so each have my nails can be a different shade.
5.)
Rainy Day Throw
| Donna Wilson
To me Easter means family picnics where eggs are rolled, sandwiches are eaten and small children are hit on the head with baseballs. Since we're up in Scotland the weather can be a bit hit or miss on Easter Sunday so this Donna Wilson throw would be the perfect way to keep cosy if there's a bit of a chill or it would make a comfortable place to lay if the sun does make an appearance.
1.)
NASTY Drop Dead Ring
| Rock n Rose
Rather than politely rolling boiled eggs down a hillside, my family turned the tradition into a yearly battle. We huddled in a circle and hurled our brightly painted eggs into the centre, smashing each other's. Last one unbroken won. 'Soft throws' were illegal. Our eggs were therefore painted with a mixture of sweet patterns and insults to match our war cries.
The sweetness of this ring's twee spring blooms against the harsh insult reminds me of my Valentine's card
2.)
Pink Gingham Skirt
| Matalan
It's the most wearable picnic blanket in history! This is on my definite pile. The colour, the shape, the print, the panel. No wonder it's made its way into many magazines and blogger wishlists already. And it's cheap!
3.)
Spring Nail Decals
| Sparkly Nails
I have done Easter egg nail designs early and over-egged it already (geddit?)- see
here
.
I like these soft, muted pastel blooms as a fresh change.
4.)
Floral Print Crop Top
| The White Pepper
I am really liking the longer length of this season's crop tops. So much more wearable for the six pack-less. I know I know, since I still haven't bought co-ords, they continue to plague my dreams. And boy, is this dreamy. Want want want this lovely pink top.
5.)
Seagull Necklace
| Cheap Frills
Growing up next to the sea meant that every family picnic would include sea gulls, so I have included this quirkly little guy.
Finally, there should also be a picture of number 6. My weight in chocolate. Yes, please!