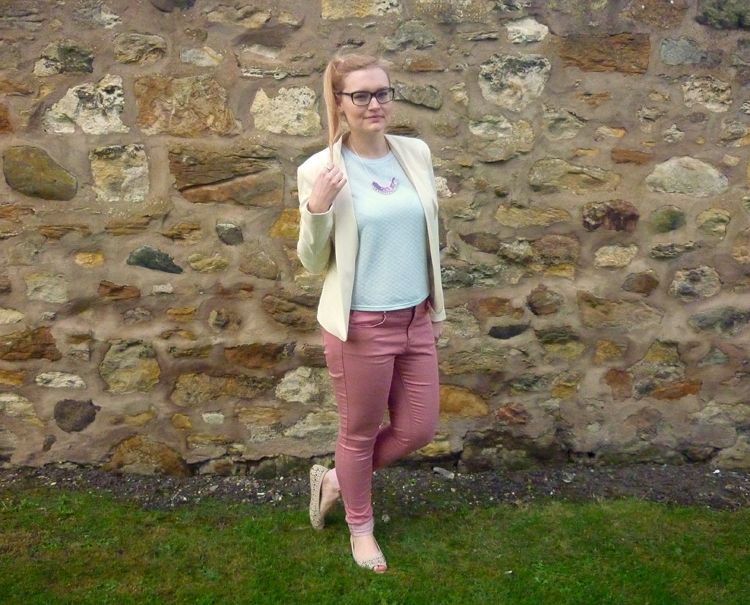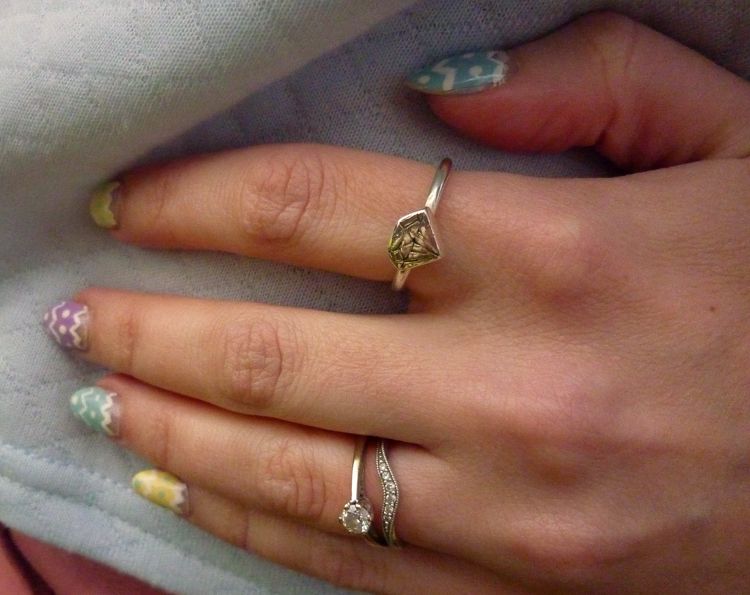 Jacket | New Look
Top | Primark
Jeans | Topshop
Shoes | Primark
Necklace |
R U Boutique
Diamond Ring | Made by Helen (along with my actual diamond wedding set)
Spring is here and I am celebrating by swapping out monochrome for a pastel explosion.
Although I am excited for colour, I am finding it very difficult to swap out my black blazer for a white one. This has been a good kick start though. As Helen mentioned on Wednesday, we were invited by
Style Fruits
to join her
Pastel Me Pretty Spring Style
competition. There are a lot of great outfits to get you inspired for sorbet shades. You can vote for your favourite
here
.
Speaking of, I don't think this look is my favourite. This is the first time I've worn this quilted t shirt. I've seen them everywhere but I don't really think it works on a
boobilicious
curvy lady like myself. The pink jeans I purchased last summer and only wore them a couple of times (including my awesome
polkadot
look). Bright trousers are like a beacon for my thighs. I also find Topshop jeans a little.. how do I put it... *roomy* in the zip area... I don't need a bulge there thanks, Toppers! Think I might not wear these again.
I've kept the look clean with the fitted white crop jacket and styled it with my super cute leather bib from R U Boutique, as seen on my Spring Wishlist back in March. I love it!
On yet another windy windy day my cutesy 90's side ponytail was swishing around all over the place. It was fun... for about ten minutes. Now it's making me contemplate cutting my hair short again. My wedding's out the way, so I don't need it long any more. I've been looking at old photos of my old hairstyles, mostly long bobs. Or the 'pob', but before VB claimed it as her look. Or perhaps I'll get my fringe cut again. A big chunky pony fringe? Or a sweeping side one? I've had too many hairstyles and it leaves me with too many decisions!
In the meantime, it's back to hair swishing for me, while I still can!