Helen
Buying:
My most favourite purchase of the month was, of course, my Hayley Scanlan
Tshirt Dress
. I blogged all about the
pop up shop
where I bought it, as well as doing an
outfit post
. I love the black polka dots and the fact that it is so light weight, perfect for the warmer weather.
Watching:
Finally getting down to watching
Breaking Bad
. Everyone went on about it for so long but it just didn't strike me as something I'd like. Finally I've given in and am now on the third series. I have to say I'm still not too sure about it. I enjoy watching each episode but it hasn't quite got me gripped yet. Will keep at it though.
Reading:
Lots of tweets. I had a load of fun getting involved with the
WearEponymous
#WeStyle
Twitter
party last week. such a great way to connect with the brand and other bloggers. Plus I picked up a few tips for holiday packing and got extremely jealous of everyone's holiday plans.
Doing:
Visiting degree shows. I went to
Glasgow School of Art
and
Gray's School of Art
in one weekend. It was slightly exhausting but also incredibly inspiring. There is so much talent out there and degree shows are the perfect opportunity to catch it. Plus there's usually a chance to pick up some neat artwork too. You can read more about my degree show adventures over on the
Jolly Good blog
.
Kimberley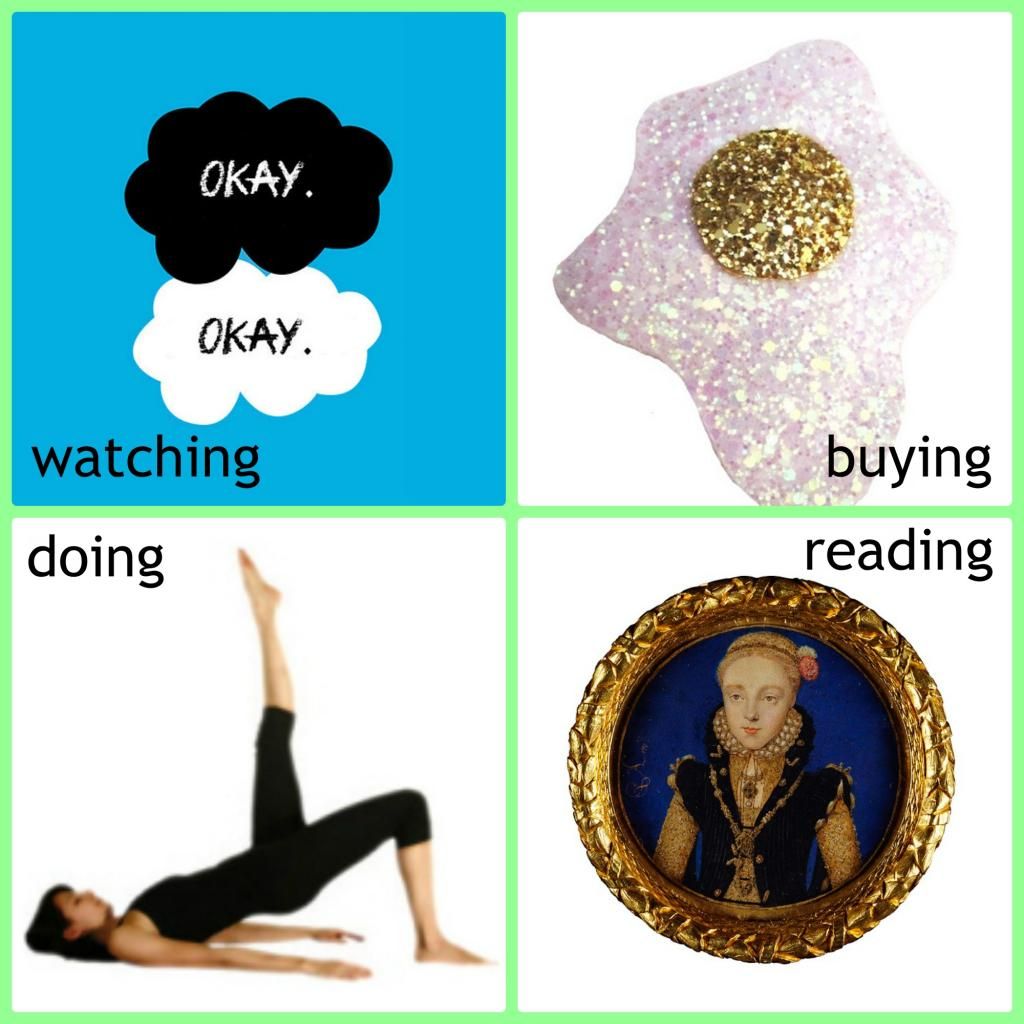 Watching:
I dragged my other half along to
The Fault in Our Stars
. You may remember I finally read the John Green
novel
not so long ago. As is always always the case, the book was better. Lines that were beautiful on the page were somehow cringey onscreen. I thought the actors did a great job but it uncomfortable viewing for me. Wait for the DVD to watch at home alone, I say.
Buying:
At the start of this month was my birthday- hooray! Among my presents I received the
Luna on the Moon
Fried Egg hair clip/ brooch that I've been lusting after. Helen always buys the best things (and a wish list or two doesn't hurt!)
Reading:
I've been meaning to go along to the
In Fine Style: The Art of Tudor and Stuart Fashion
at the Queen's Gallery, Holyrood House
.
To whet my appetite I've been reading the exhibition's guidebook, which is in the style of a contemporary glossy fashion magazine with 16th and 17th Century style. It is really well done and I read it cover to cover. I can't wait to get along and see the items and portraiture in the flesh.
Doing:
I am crazy for yoga, as I've mentioned
before
. Since picking it up again in January it has really improved my flexibility and toned my arms. I can finally touch my toes! This month I started a weekly
pilates class
to get more core strength. I joined halfway through the course but I'm managing to just about keep up with the second stage movements. I like organised exercise that doesn't make me sweat.