Helen
Doing:
Relaxing at the spa. My favourite ladies and I went for a girly day where we were massaged, steamed and jacuzzied to our hearts content. It was my first proper spa experience (what kind of girl am I?!) and I thoroughly enjoyed it. Can I go every week please?
Buying:
To be suitably attired for the spa I was in need of a swimsuit. As much as I loved the shark one from my
wishlist
, there just wasn't the time to order online and wait for delivery. Instead I opted for this cheap and cheerful
Matalan number
. It has hidden tummy and boob support which is great for a curvy lady like myself. Plus, the polka dots and halter neck give a cute 50's look.
Watching:
Next year Kimberley and I are going to be bridesmaids for our bestest lady friend, Susan. Excited!! As well as pinning
all
the pretty pictures on Pinterest, I've been getting inspiration by watching
Don't Tell The Bride
. The show is ridiculous but I love it.
Reading:
These song lyrics are pretty much the only thing I've read lately! Found on the toilet wall of
Avery & Co
, I liked the chalkboard look and fonts used. I've lost interest in the book I was reading and have found it hard to get into anything else. Any recommendations to get me out of this funk?
Kimberley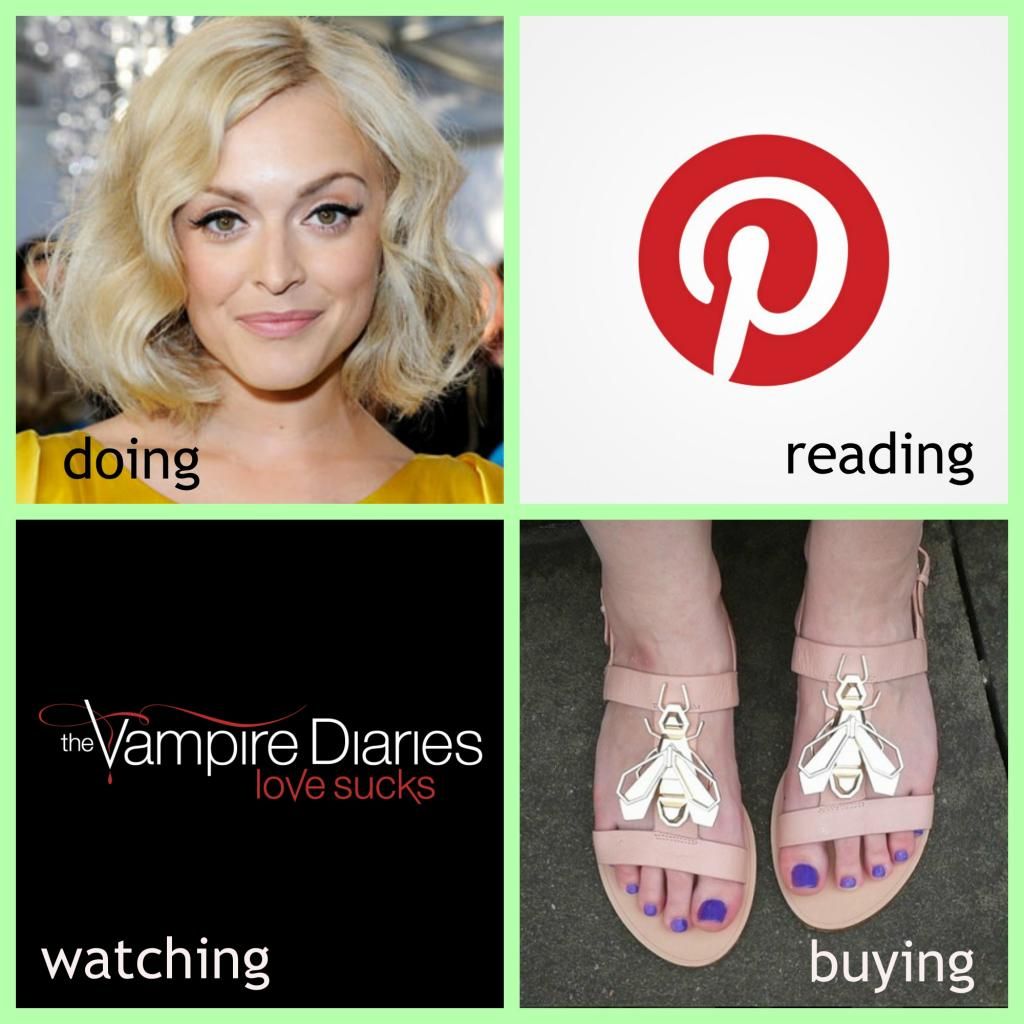 Doing:
Getting serious hair envy. I know I keep going on about it, but I haven't had my hair cut in almost a year and it is seriously out of control. It is the longest it has been since since primary school and I neeeeeed to book an appointment pronto.I want it all lopped off but can't decide what I want. I'm a bit weird in that I take sudden urges for a hair style without thinking it through and have made many many mistakes in haste. Help!
Reading:
Pinterest weddings. Like Helen says, we are in a wedding- planning frenzy for our bestie, Susan. But it's totally allowed as she lives in Dubai and we have limited time with her. Having spent the day at the spa catching up with her and discussing ideas, Helen and I led her down the dark dark path that is Pinterest. After only two days I realised we had created a pinning monster. If you fancy a peek at my pins, my username is dressingupwithk and you can find me
here
.
Watching:
The Vampire Diaries
. Helen has got me into this show, and since I got Netflix in my new flat I have been marathoning my way through the series. Helen and I were both obsessed by the original series by L.J. Smith when we were teenagers (although
Night World
was our favourite, obvs). I'm team Damon all the way.
Buying:
My favourite purchase this month has to be these Zara shoes. They are amazing, and so comfy! I bought them in a wallowing-in-self-pity shop after hurting my ankle so that I could enjoy some nice flats once my hideous tubi-grip came off. I still can't decide if they are flies or wasps? Or some kind of futuristic mechanical hybrid? All I know is they are fabulous. What do you make of my generic insects?