Helen
Doing:
August has been an amazing month filled with fun times and adventures. From catching up with
old friends
, making
new ones
, taking the nerve wracking step into video (results coming soon) and going to a
wedding at the zoo
! It's been jam packed! Most recently I went along to another
Vanilla Ink
class, this time to learn some leather work skills from
Pretty Vexed
. It was a lot harder than it looked but also great fun. I managed to make a phone case and a key ring and I'm pretty proud of my efforts.
Buying:
As well as doing lots of fun stuff I also treated myself to a fair few pretty things this month. There have been a number of items building up on my wishlist for a while and I thought it was about time I ticked some of them off. Top of my list was this
Bloody Mary Metal Crossbones Ring
. I'm so happy it's now mine!
Watching:
After finishing Breaking Bad (loved the 4th season) I've been filling my evenings by re-watching some of
Louis Theroux's
documentaries. I really like his style of questioning (not too confrontational but still probing) and his nerdy demeanour. The Extreme Love series is really interesting, with the Dementia episode bringing a mix of laughter and tears.
Reading:
Inspired by the
Wear Eponymous
twitter chat to launch their
Naromode
collection, I dug out my copy of Household Tales by The Brothers Grimm. I do enjoy a good fairytale, especially one with a darker edge. One of my favourites from the book is The Mouse, The Bird and The Sausage, it is just so surreal.
Kimberley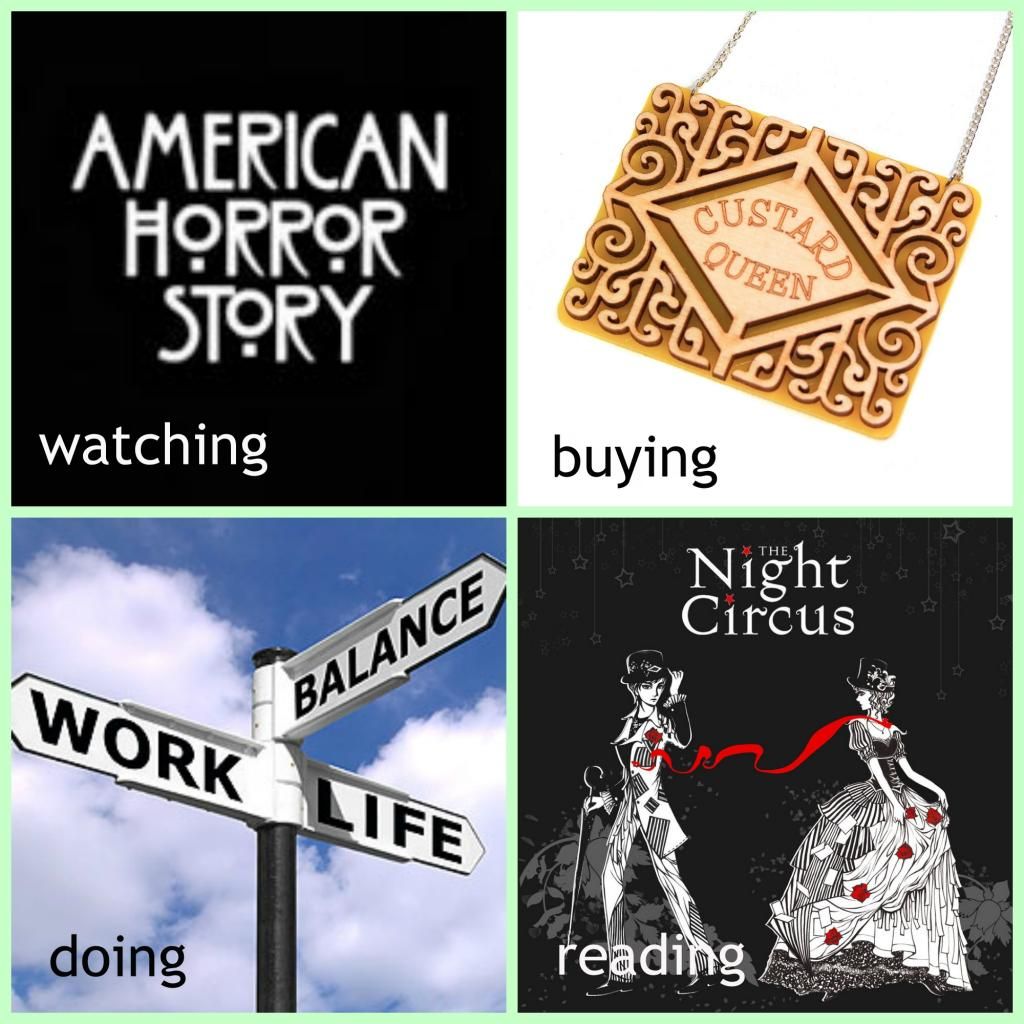 Watching:
On Helen's recommendation I am currently watching American Horror Story. I wasn't sure what to expect from a horror series but it's very well done and I'm enjoying it. Sort of. Although I'm watching the series on Netflix, for once I am getting through the series really slowly. I am a big scaredy pants and I can only watch it in daytime, before watching something fluffy to get over it. I'm not even sorry, I'm a sensitive soul with a vivid imagination and my husband often works nights!
Buying:
I treated myself to a few little goodies this month but one of my favourites was this adorable Custard Queen necklace from
Runaway Fox
. I picked it up when Helen and I visited their stall at the
West End Fair
. I wasn't supposed to be buying anything that day but I just couldn't resist!
Doing:
This month I started a shiny new job that I'm really happy with. I've settled into my new flat in town so I have been able to enjoy the Fringe and visits from numerous friends on their summer holidays. It finally feels like I'm getting the work- life balance in check. Long may it continue.
Reading:
Since starting my new job, I've been travelling by bus each day (still no driving license but you can't have everything!), so I've got back into my
May
read,
The Night Circus
by Erin Mogernstern.
The story has a slow start but as it has unfolded it has really grown on me. The imagery she conjures up is really magnificent
.