Helen
Watching:
At the start of the month I took in a few films at the
Dundead
horror film festival. My favourite (of the selection I saw) was
The Battery
. This low budget indie flick breaths new life into the zombie genre with humour and a killer soundtrack.
Buying:
I've finally got myself a new camera! I've taken the step up from my pink 'point and shoot' to the Panasonic Lumix G5. Getting to grips with all the functions is going to take a bit of time but hopefully you will be seeing some sharper and clearer images on the blog from now on.
Reading:
I haven't been reading that much this month as I'm still working through the massive boxset I mentioned in
last months round up
. I have been working through my
Etsy School
workbook to try and get my head around SEO. It's still a little baffling but having small tasks to work through definitely makes it easier.
Doing:
I spent a whole weekend at the
Duncan of Jordanstone College of Art and Design
degree show. There was so much to see!
Rosie Kimber's
bright pink pieces were some of my favourite. I love degree shows and can't wait to take a look around Edinburgh College of Art this weekend!
Kimberley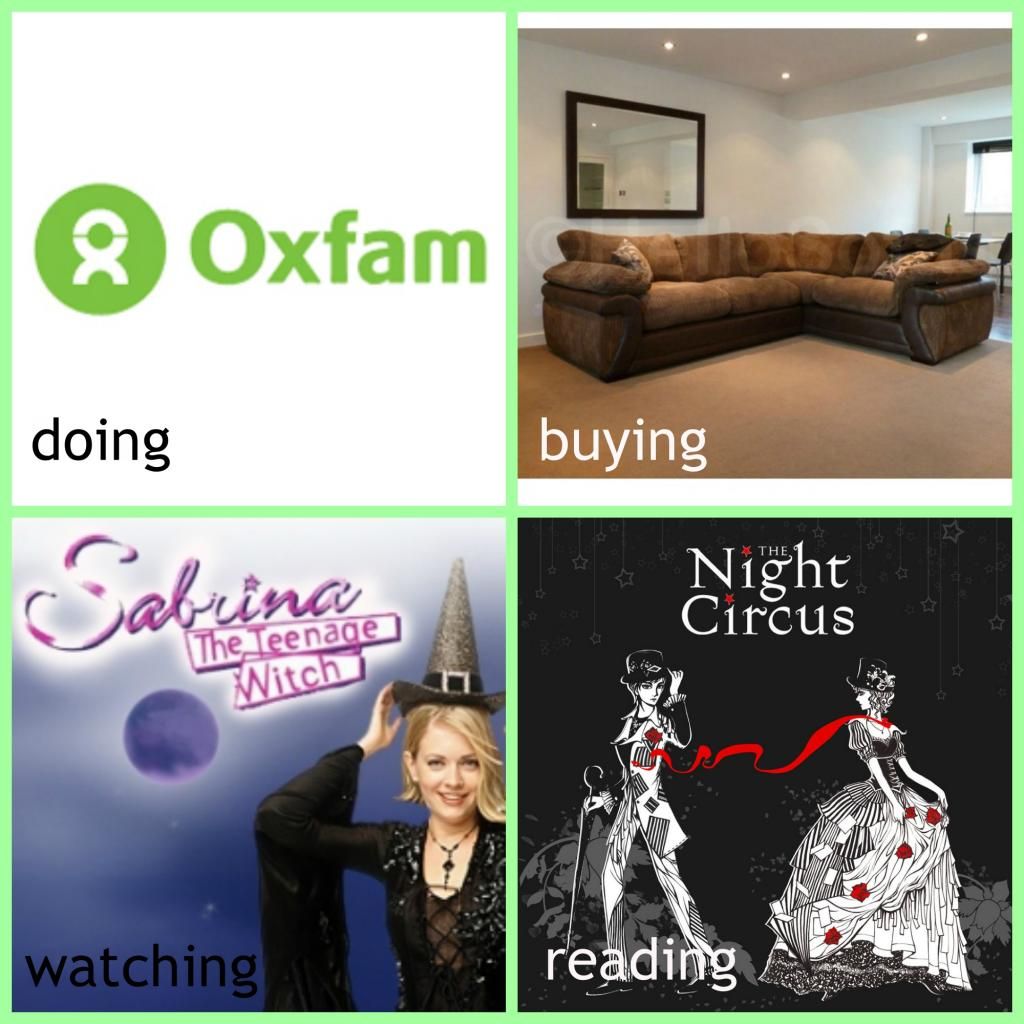 Doing:
I'm preparing to move house. Woohoo! We are technically downsizing from a semi- detached house to a flat but it's in a prime location and really great building. And I'll still have a dressing room, even if it comes with only one wardrobe. I am very excited. Unfortunately that means we have to clear out a lot of our stuff so I've been donating huge bags of clothes and books to charity.
Buying
: As we are moving, I'm in the middle of making a big grown up purchase- buying a new sofa. We are upgrading our Ikea set to a fancy new corner number with love seat. Oooh. Aahh. The decision is not being taken lightly- did you know that you also choose the colour scheme and it takes nine- NINE- weeks to order?!
I'm not cut out to be a grown up.
Watching:
I'm unashamedly getting through
Sabrina the Teenage Witch.
One thing that I suddenly remembered (apart from the details of every.single.episode) was how excited I got, aged 12, that Sabrina had the same weird top as me. It was an unusual printed top that my aunt had bought me so no one else at school had one and I was beyond happiness. Sabrina had it in two colours so it must have been good. It was way cooler than the dress- over- shorts look I attempted after watching
Clarissa Explains It All
that my primary school peers just didn't get (until the following year when matching sets were sold in shops).
Reading:
The Night Circus
by Erin Morgenstern. I've just started this book so I can't say much about it yet, but I've heard good things about it! I'm sure when I have a spare minute to get into it I won't be able to put it down.